Interview with Dora Hoffmann, Chief of Staff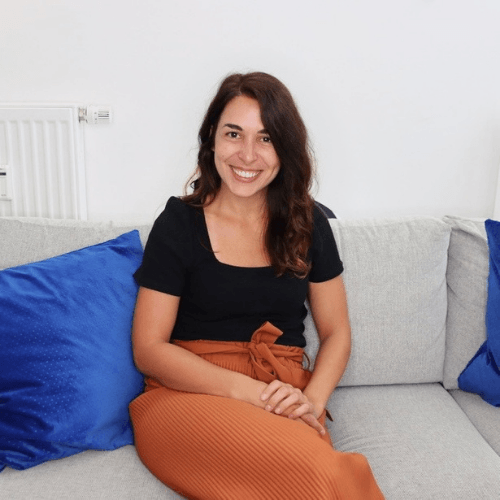 When you think of a Chief of Staff you might envision something out of The West Wing or even the military, but the role is becoming increasingly popular in the tech startup world. Executives of companies experiencing rapid growth often find themselves needing to be everywhere at once. That is where the Chief of Staff comes in, someone who is comfortable wearing many hats and diving in to tackle new challenges as they emerge.
With the team growing by 300% from 2018 - 2020, and planning on doubling again by 2021, ultimate.ai wanted to proactively prepare for future growth and create a solid foundation for Operations and HR. At this critical point it was decided that it was time to bring in a Chief of Staff and invest in the People team from an early stage. Enter Dora Hoffmann, Chief of Staff at ultimate.ai and all round superstar! We sat down with her to get the lowdown on this unique position and the person behind it. 
---
Tell us a bit about how you came to join ultimate.ai?
I first heard about ultimate.ai in 2018 as two former colleagues had joined the then young start-up and what I heard from them was only good – "positive", "passionate", "progressive".
Since then I had been following ultimate.ai's development and growth from a distance, partly as I did not believe what I heard. I remember we were joking about me joining one day. Two years later this "joke" turned into reality.
I was motivated to join from an early stage due to the down to earth founders, the culture and the passion of the team which was very attractive and addictive. This is a team where people empower each other and work hard for a common goal together and this is something I had been looking for.
Of course then when I found out how dog friendly ultimate.ai is and how many dogs there are in the office, it was the easiest decision I have ever made!
I joined the team as ultimate's Chief of Staff which is a new position on the market and honestly it is a new role for me but this pushes me, keeps it interesting and motivates me as I am learning and growing myself along with ultimate.ai. I am a big believer in 'learning by doing' and "starting from the ground up" and I have practiced this personal philosophy since I can remember.
How do you see this position?
The responsibilities are quite intangible, this position is really tailored to the organisation. In my case, originally we defined the role as overseeing HR and Operations and being the "right hand to the COO". I am enjoying the variety of responsibilities and initiatives that I can be involved in. It is never boring for sure! 
What was your career path to Chief of Staff?
I came to Berlin in 2013, initially only to improve my German skills, like what I had done in my earlier years with Italian by moving to Italy, as learning new languages and experiencing new cultures is a passion of mine.
Unlike my short stay in Italy (Sardinia), I saw the opportunity for building a career in Germany, so I decided to stay.  
The journey started when I decided to leave Budapest, where I was working as an IT Support Agent at TCS.
I decided to go on a short trip to Berlin (7 years and still counting), as I felt my self-development and growth had stagnated and I felt it was time for a change of scenery, as I had been working at TCS before, during and after my Bachelors.
After the traditional bumpy start of any journey, the path had lead me to work in a café, where I learnt there is a difference between a latte and a frappé and in a hotel where I also made a few little mistakes. One such mistake was accidentally setting the breakfast buffet on fire which I attempted to subdue with my bare hand as the fire safety officer watched, laughed and encouraged, in hindsight, my feeble and ridiculous attempts of extinguishing said fire, to an audience of shocked and horrified  guests. Their faces still haunt me on some nights.
BUT I persevered and continued with my part-time employment while studying and improving my German to a C2 level and after finishing my German studies, my confidence had grown, and I applied and was hired at Oracle. 
This was my second time working at a multinational corporation, while everyone around me was working for cool start-ups. This was 2015 Berlin, the Berlin BOOM of start-ups.
In 2015 working for a start-up was literally one of the 10 things to do in Berlin, a list consisting of growing a beard, being refused entry at Berghain and queuing at Mustafa's kebab hut for 40 minutes. I cannot grow a beard, do not like techno and I am vegetarian, so I started as an Office Manager at a company called Hubrick.
Hubrick was a start-up designing, building, and creating a new social platform. Imagine, if you will, if Facebook and Instagram had a child and that child met YouTube and eBay in KitKat club.
I started as an Office Manager and was promoted as People & Culture Manager overseeing HR and Operations. After an unfortunate bankruptcy (not surprising), I worked at two other organisations, the first as HR Manager and the second as HR Business Partner before joining ultimate.ai. 
My path was ambitious, brave, hard and I took a lot of risks. Coming to a foreign country, applying for positions higher than my standing, handling rejections and criticism, training and learning. Always pushing and trying to prove and improve myself. Developing, growing, evolving always with the spirit of "I can do it", it was not easy, but it was very rewarding and I would not change a thing.
"Light a fire they cannot put out", the fire safety officer tells me every morning. Yup, the journey was very rewarding.
What are your goals in this role?
My main goal in the role is to grow both professionally in my career and help to grow the company in the most efficient and sustainable way. Chief of Staff is a fairly new role on the market and a senior role, which is a new area for me, so I am constantly trying to improve myself. This includes learning by doing, keeping up-to-date with the latest HR trends, research and networking with other companies.
What do you plan to achieve as Chief of Staff? 
An environment that attracts the best people, that keeps them happy to stay with us and lets them do their best work. This is a win for all of us.
What advice do you have for your fellow Chief of Staffs?
You get as much out of this role as you invest! Even your own interest and passion can be turned into a project or initiative. 
Thanks for chatting with us Dora! 
For more behind-the-scenes of life at ultimate, follow us on instagram @ultimate_ai